---
Canine Support Sling with Chest Strap
Labra
Regular price $19.95
SIZING - The Large is appropriate for dogs weighing 40-70 lbs

GREAT FOR STAIRS AND CARS - Other slings slip to the back of your dog's body when your dog tries to go up or down stairs or gets in and out of the car. Our sling stays in place at all times thanks to the chest strap we've added to the front of the sling

WORKS FOR MALE DOGS - Many other slings make it hard for male dogs to go potty due to the position of the sling towards the rear of the body. The chest strap on our sling holds the sling forward on the body and out of the way.

SOFT AND COMFORTABLE - 1/4" of lightweight, breathable padding keeps your dog cool and comfortable.

END BACK PAIN - Stop bending over to lift your dog off of the ground. Our sling allows you to give your dog a lift without bending over.
Has your dog's mobility been limited by an injury, arthritis, or old age? Help your best friend enjoy their normal active lifestyle again. The Labra Canine Support Sling makes walking your dog easy and painless for both dog and human. Elderly dogs still need to maintain an active lifestyle and our sling allows them to do just that.
If your dog has suffered a debilitating injury, he or she will eventually need to get moving again to make a quick and full recovery. Our sling allows dogs to get a head start on their rehabilitation by getting up and moving around. During the rehab process, our sling provides the additional stability and support your dog needs to make a full recovery. Don't let an ACL, CCL, MCL, or other joint or ligament injury keep your dog down. Many dogs are able to recover from ACL injuries without expensive surgeries, but they need additional support during the healing process to do so.
Knee injuries in canines can be especially difficult to treat due to many dogs' desire to run before they are completely healed. Our sling lets your dog remain active while in a controlled environment where their human can limit exertion.
Our sling is so easy to use, simply slip the sling around your dog's torso and close it with the wide velcro closure on top. Once secured, attach the chest strap in front of the chest and adjust to the correct length. Then, grab the handles and wrap the handle pad around them for a more comfortable grip. It's that easy! Keep it on hand at all times in case your pup needs a lift!
---
You might also like
Labra
Sale price $39.95
Regular price
$69.95
Sale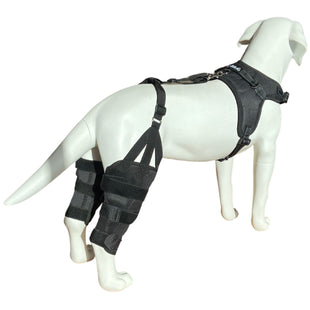 Labra
Sale price $59.95
Regular price
$99.95
Sale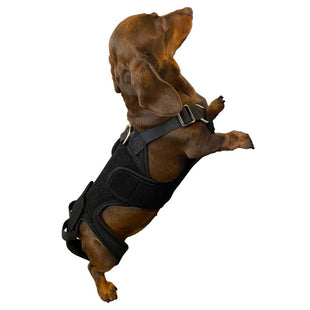 Labra
Sale price $49.95
Regular price
$99.95
Sale